I like your stuff! Can I help?
Thank you so much for your interest! There are several ways you can help support this site, and I've gathered them all here, so they don't intrude on the rest of the site.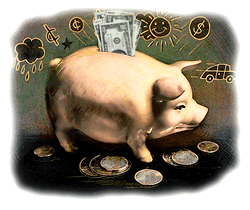 Incidentally, I'd like to properly thank people with a gift for their largesse, but I'm not sure everyone would be thrilled by (for example) an interesting, detailed e-mail conversation on a topic of their choice. So I'll ask you, if you choose to give -- what do you think would be a nice thank you?
Feedback
The easiest way to support this site is to tell your friends, and to give thoughtful feedback. Letting people know you appreciate them is always an emotional lift. Sharing things you enjoy is too.
Also, if you have the time and inclination, you can offer to join my Editors list. These are the folks I send my writings to before going public, for thoughtful critique on how to improve them. If you think you could help that way, drop me a line and let me know.
Links & RSS feeds
Linking is a nice way to help cheaply. The more folks who link with the Bestiary, the better the Bestiary's ranking will be in the various types of search engines. Thank you!
The simplest way to link is to use HTML on your site, in mailing lists, or on bulletin boards. I do ask you keep the linking to relevant locations, please -- I don't think folks wishing to discuss left-handed 18th century fleening prongs, for example, are going to be that interested in my site. ;)
Please feel free to use the simple banner or button here -- right-click on the image you want to use, and save it onto your own machine.


Let me know if you choose to link with me; I'm usually happy to swap links with others. Also, it's always a pleasure to know someone likes your stuff. If you make a new banner I'd love to see it!
Another option is to pick up one of my RSS feeds. There's a general one for the entire site on the Home page, and one on the Library page which is just for book reviews.
Alternatively, join the Bestiary mailing list! The list alerts you when the Bestiary is updated -- and nothing else, so you don't have to worry about receiving spam, or having your e-mail address sold to a third-party. I wouldn't like that done to me -- I won't ever do that to you either.
Amazon
Another very easy way to support this site is to buy books through the amazon affiliate links scattered throughout this site. I like this way, as we both win -- you get good books to read, and I get some pocket change.
You can also send me a book via my amazon wish list -- I'm always happy to credit those kind enough to help out so, in the ensuing book reviews.
Yowcow
If you'd like to do something more concrete, I welcome donations. Also, because I was asked to, I'm set up to accept subscriptions for $2.00 per month -- although if you'd like to subscribe for more I certainly wouldn't mind!
Just click on the correct button for your needs. It will appear as a donation or subscription to Laughing Collie Productions:
I'm also a Yowcow.com affiliate, so if you're interested in a friendly, safe alternative to paypal, please join!