Life-Birth-Chaos-Dance: new tambourine!
When I'm stressed or lonely or otherwise not at my emotional best, I find creativity enormously comforting and grounding. My first night here in San Francisco for the CIIS Women's Spirituality Intensive week of classes, I had made the hotel room "mine" by unpacking and doing a little decorating, but I was still feeling a bit lonely and at loose ends. To remedy this I made myself a cup of hot sweet tea, curled up on the bed with several of my textbooks for my readings, and crafted a new tambourine design — which I quite like!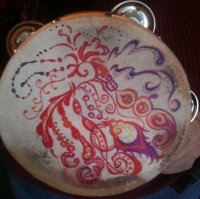 Much to my pleased surprise, the tambourine sold the very next day at the retreat for the alums and students of the CIIS Women's Spirituality program! The lady who bought it was quite nice as well, giving me a moment to take a few snapshots of it before handing it over to her.
The pattern was inspired by Gabrielle Roth's concept of "chaos" for dance. I only had a 6″ tambourine to hand, so used it — I may try expanding and embellishing on a larger diameter tambourine later. Of course, the design will be slightly different each time, being hand-made, but I think that adds to the uniqueness of the pattern. I may have to make one just for myself, as well; I really like this design.
Let me know if you'd like one too. Enjoy! :)