Experimenting in the kitchen
And now for something completely different… !
As you may not know, I am not much into housekeeping of any sort. Years ago, when I was a child, I always more enjoyed working with the animals and cleaning the barn, rather than cleaning house. Give me a muck-bucket, a pitchfork, and a tractor in the outdoors any day, as opposed to scrub brushes, rubber gloves, bleach, and other nasty cleansers! Further, at some point when I was a kid I did something stupid — I don't even recall what any more — and as punishment I had to do the ironing for a while. Dear heavens, I LOATHED ironing! -with a flaming, heated passion. I still buy only clothing that does not need ironing, in fact.
Housework was also all tangled up in my head with being a wife — and I already knew at a very young age that I was never ever getting married! From my child's perspective, being married meant girls no longer got to have fun, and were stuck for the rest of their lives submitting to some man, doing his laundry and cooking and cleaning so he could go out and have a life. Well, I reasoned, if the girl never married, then she'd never have to crush her own joie du vivre so as to be a proper helpmeet to some unappreciative guy, right?
C'mon, I was a kid. It made perfect sense, then. ;)
Heck, there are placed today where it's still not far off from the truth.
So anyways. I'm still happily unmarried, but recently I decided I'd try to teach myself more cooking. I wanted to save money by not eating out so much, and be sure we were eating healthier, and have something fun and creative to try so I didn't get sucked into the lovely, enticing, life-consuming black hole that is dissertation research/writing. ;) Thus twice a week now I make either a casserole or a crockpot meal, and my housemates and I eat the leftovers for much of the rest of the week. It has been working out rather nicely, actually. The crockpot is my new best friend — who knew how wonderfully easy they are to work with?! Casseroles, I have discovered, are also very forgiving, and I have a never-ending source of potential recipes on the internet.
My criteria are simple: it shouldn't take more than half an hour or so to put everything together (though it can cook as long as it likes), and there shouldn't be a plethora of teeninesy ingredients and fussy preparations. I'm thinking here of the recipe that required over eight different spices alone, and had to be started the day before the meal was served: SO not happening here! Also, as I'm paging through either cookbooks or the internet, I try to take the first recipe that fills my criteria — since otherwise I find myself sticking to the same old same ole beef or chicken and veggies. Experimentation is what this was supposed to be all about, after all.
Every once in a while something comes out so nicely that I'm startled (still — this is new to me!), and I have to dash off and grab the camera for a shot or two. Seems silly to have photos and not share, so here we go! Today's meal is nice and simple and tasty and filling and surprisingly low calorie: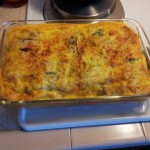 Puffy Chile Relleno Casserole
(serves about 8)
 Ingredients
3 cans (7 ounces each) whole green chiles
5 whole-wheat tortillas (8-inch), cut into 1-inch strips
1 pound grated, reduced-fat cheese (cheddar or Mexican blend)
1/2 teaspoon each ground black pepper, ground cumin, garlic powder
1/4 teaspoon salt (optional)
3 cups egg substitute (like Egg Beaters, equal to 12 eggs)
3/4 cup nonfat milk
1 teaspoon paprika
salsa (optional)
 Directions
Preheat oven to 350 F.
Spray a 9-by-13-inch baking pan with nonstick cooking spray. Remove seeds from chiles. Lay half the chiles in the pan. Top with half the tortilla strips and then half of the cheese. Sprinkle with half of the seasonings (except the paprika).
Repeat another layer using remaining chiles, tortillas and cheese. Sprinkle the remaining half of the seasonings (except the paprika). Beat eggs with milk and pour over casserole. Sprinkle with paprika.
Bake uncovered for 40 minutes or until puffy and set in the center. Let sit 10 minutes before serving. Serve with salsa.
Salsa is NOT optional! Yummy.
Didn't use the salt; didn't really need it.
Use the chopped chiles; whole is way too big.
I couldn't find the whole wheat tortillas, so I used soft corn instead. Was really tasty, and I have a few left over for later gnoshing in wraps and such.
If you try it, let me know how it turned out!