Grateful for the holidays
The holiday season is finally coming to a close, and I find I have a great deal to be grateful for. One random side thought: Good heavens, new houses take a lot of time and effort! ;)
I've already written about our lovely kittens, but I do have two cute new photos to share before I talk about my wonderful new pup. So here's Tessa doing her camo thing…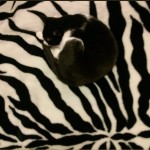 and Manda playing the part of the cat in the Far Side cartoon — somewhere a deliriously happy dog is yelling, "SCOOOORE!"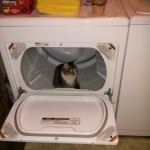 Also included is a shot of a rather tired-looking Manda with her (nearly fully grown & still nursing) kittens for comparison purposes, from the shelter. She has filled out so beautifully since then!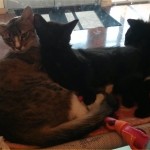 So! Now, without further ado I present my lovely Goldie Girl! :) Our new pup is actually a 3 year old rescue dog. She's a lightly built, nearly 50 pound, blonde mixed breed with big soulful chocolate eyes…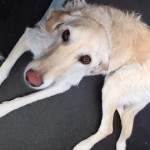 and the cutest little "dragon whiskers" around her mouth — which is what I call the short, soft barbels around her mouth, since they look rather like the whiskers painted on Eastern or Chinese dragons. We were initially told she was probably a golden retriever and standard poodle mix. I think they guessed poodle because she's got rather curly fur on top, though the vet says it's not the hypoallergenic poodle type of fur. Thus the more I work with her and have her around other people and dogs, the more I suspect they were right about the golden retriever, but the other half is more likely something like borzoi (Russian wolfhound), or some other sight hound.
At one of the dog parks we frequent there's a woman who breeds borzois, and she pointed out several things I didn't know, in fact, which led me to conclude there was a borzoi somewhere in Goldie's ancestry. For example, she noted how Goldie is pale, but has dark pigment all around the eyes — as you can see here, as she models for the camera.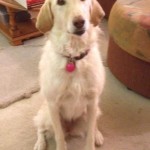 Apparently that's a breed-trait of borzois, as is also the nice, high arch of her spine and neat tuck-in of her waist. There's also the fact that when Goldie wants to run, she runs! -and pulls away easily from all the other dogs.
This is the two of us about to step into our new house for the very first time: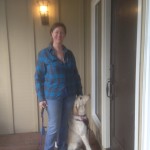 and here she is in the back yard, looking all adorbs…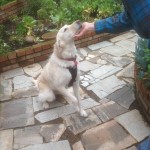 and finally, a shot of her in her beautiful new little hiking pack that she got for her Solstice present!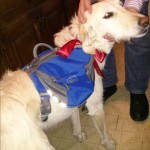 Alas, her gorgeous new peacock-feather-pattern collar doesn't show under the bow I tied around her (long-suffering, but appeased with treats!) neck… but you can see her dragon whiskers in this shot!
So! That's enough of me being the doting new puppy-mom. Enjoy! -and a very happy holidays to you and yours. Namaste! :)