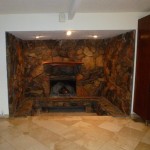 We have moved! So much stuff happening; so many errands on my metaphorical plate! The photos are from before we moved in. Currently we're still living in box-ageddon, though we're making progress on changing that. It's surprisingly satisfying to have a place you call home that's yours — I'd not realized just how much. True, I lived in houses my parents owned, but this is the first house we've owned since I became an adult. It's funny how many plans we have for the future, even as we work hard on excavating the canyons of boxes for our goods.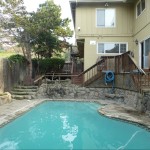 The new place is so lovely! Much larger than our old rental, and it actually has a bit of land around it — and, much to our surprise, a pool! We'd not intended to purchase one, but the house was too perfect. Lots of big windows, skylights, and beautiful natural light, even on the bottom floor. When we bought it there were two fireplaces, one pellet stove, and one old cast-iron style pot-belly stove that was supposedly "for decorative purposes only" — a statement somewhat belied by the little pile of ashes inside it, and the stories we got from the previous owners! Because they were put in poorly, we've removed the pellet stove and the old iron stove, though we intend to replace them in the future with much nicer gas models. We're thinking gas simply because there are a lot of "no burn" days in San Jose, and we don't want to add to the issue.
The house itself is on a hill, built so if fits nicely down the slope — that's why it's two stories, in fact. It's about 50 years old, and we're the third set of owners. The original owners put on a somewhat unfinished sunroom, and left the cutest tile in the tile floor! The next set of owners had the house for something like 30 years, and raised their family in it. They finished the sunroom, but apparently it's legally not considered "living space," so cannot be reported as part of the house's actual size when selling it or estimating taxes for it — which turned out nicely for us, since we ended up with a significantly larger amount of room in the house as a result! The previous owners moved out because their kids had all grown up and moved out, and they were both into their 80s, so the stairs were a bit much for them. Admittedly they were not… how do I put this politely… let's just say that, due to our exposure to the previous owners during the selling process… they will not be on our metaphorical christmas card list.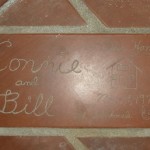 There's a lot of basic clean-up to do in the house yet — things like changing incandescent bulbs to LEDs, or repainting the walls, or fixing broken plug facings, or replacing cracked tiles, and so on — but I was thrilled when the guys basically told me I could decorate however I wanted, within reason. Admittedly, that latter addendum was due to me cheerfully showing off a photograph of a house I found on-line that had tentacles coming out of the roof! Come on, guys — what's wrong with a tentacle or three? :-D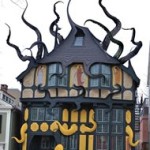 I have very happy-making plans for decorating, in fact. The former pool room — what the previous owners referred to as their game room — has been converted over into a bedroom, and the (ugly) bedroom that apparently belonged to a child is now becoming my craft room. That is so exciting to me! I'm really delighted to have a room where I can work on projects and leave them out if necessary without imposing on the patience of my housemates. The stone-lined conversation pit is surprisingly cozy, though I want to put a lot more cushions in it so it's comfortable to sit there by the fire. The living room will have our TV and other electrical equipment, one housemate has the master suite (it's huge!), another of the bedrooms is now our computer Bridge, and the final bedroom is for guests. The sunroom is likely to be our sort of library/relaxing room/'oddities like pianos, etc.' room.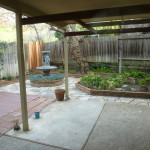 We think the pets really like the new place. The cats seem pleased with all the new space, and they adore the big new cat tree by the sliding glass door. They sit at the top and snooze or peer out into the backyard and the overgrown lot next door — especially when the deer come wandering through! That was cool. Goldie, my beautiful pup, thinks the yard is awesome, though she (of course) prefers chasing her squeaky ball at the nearby dog park instead of scrabbling excitedly along the wooden deck — though the wood is easier for her to navigate, I think, than the predominantly tile and hardwood floors of the house. The yard is… well, a bit odd, considering it sort of cascades down the hillside. There's a lovely big deck, a large patio, the pool itself, a smaller sitting area, a large former fountain surrounded by cracked tile which I want to remove and replace with grass, and several little terraced areas with various sorts of greenery in them.