Hallowe'en silliness because I can; because Goldie is both patient and a delight to work with; because it's fun to dress up; because why not? :)
My ATS bellydancing class was a blast this morning! On the way to class I heard Alice Cooper's "Welcome to My Nightmare" and a version of "I Put A Spell On You" and something new to me: the "Monster Hash." In class we continued the joyful holiday silliness, of course — we danced to "Thriller" and to "Swing Swing Swing" and to "This is Halloween" from The Nightmare Before Christmas and to other more, um… standard bellydancing fare. Oh, and we also celebrated the birthday of one of my dance sisters. It was really wonderful!
So after ATS bellydancing today my housemates and I went to breakfast at a lovely restaurant that has both a porch, and people who love dogs that work there. They know us there by now, and think Goldie's just a sweetheart — which of course simply shows how perspicacious they are, right? So for fun I tossed on some bits & bobs to make an impromptu costume for us both: La Zorra in her everyday gear — and her brilliantly disguised horse Tornado!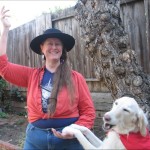 As you can clearly see in the photo, enthusiastically shouting, "Olé!" together is an important part of couples dancing, which… isn't really a critical part of being a super, but what the heck. After all, in the original Zorro series he was quite the gentleman when he needed to be, so La Zorra can be a gentlelady too!
Also important is having a faithful sidekick, so you can establish an alibi for your secret identity — by having your faithful sidekick wear the costume while you're elsewhere in regular clothing! Otherwise people might put two and two together and realize just who is that dashing and elegant lady behind the mask of the daring La Zorra! I'm quite sure no one will suspect… :)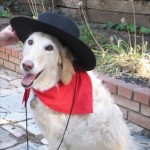 Of course, one must also properly reward one's loyal sidekick for sharing in such mad shenanigans, so they're willing to continue doing so again later! Enjoy! -and a very happy Hallowe'en to you all. :)