Achieving More Firsts, & Friday Good Fortune
Friday the 13th has always been a good day for me. I remember, as a child, wondering why people were so afraid of it, especially since Friday the 13th was the day when my sister and I received our first horse. We named him Friday's Luck, or Lucky for short. He was an obstinate little cuss, and taught me a great deal about riding, to the point that he and I regularly won classes at the local horseshows. I always found it fitting that the show in which we won both several classes, and that show's division championship, was the one where our number was 13. We'd have won the division championship for the entire year too, but for his unfortunately being sold partway through that year. As it was, we'd accumulated enough points during the shows we were actually in, that year, that we won reserve champion anyway.
This Friday the 13th I'm not doing anything quite so dramatic; instead I'm writing down some personal intentions for the year – which I've mentally tagged as starting on my birthday, October 5th, of last year. Some years ago I decided to do 50 new things to celebrate a new phase of my life: starting my doctoral studies. Well, those studies are now completed, the dissertation is written and printed, I've received the diploma… and so I'd like to commemorate another new phase beginning in my life… even if I'm not yet sure what it will be. This year, therefore, I intend to do 60 new things – or at least have a fun time trying to reach that goal.
I'd effectively paused my writing about this because I wanted to try video and/or podcasting my blogs, thereby accomplishing two more new experiences for myself. However, that's turning out to be a bit more complex than I'm currently quite ready for, so the heck with it. I'll start by writing down what I've done so far, and if/when I get ready to do video or podcasting, I'll add that in too.
Of course – and much like the last time I did this — some of these new things I'm trying are not dramatically new things. Often they're experiences which many people have had or done successfully multiple times… and that's okay. This year of new things is about increasing my own personal experiences, and hopefully enriching my life in doing so, as I derive great pleasure at learning new things. If this sounds like fun to you, I absolutely encourage you to try it too!
Some Personal Firsts
A good example of something that's both new to me, and entirely commonplace and pragmatic, is learning how to correctly perform an exercise called the squat. I had rather serious knee issues several years ago, and many well-intentioned people informed me that the squat was a perfect way to build up knee strength. It is… when done right. Unfortunately no one gave me a really good explanation of how to do so – the various trainers I had at the gym just demonstrated doing it, then had me try it. Since I didn't know how to correctly balance my weight on my feet, I didn't do the squat correctly – and it hurt my knees to perform! Not helpful.
Then I met a female trainer who walked me through how to correctly do a squat. Perhaps unsurprisingly, this was a whole different ball-game! Not only did it not hurt my knees, but over time I could tell it actually was strengthening them. I was so relieved to learn this! I don't know why none of the male trainers either explained it carefully to me, or noticed that I was doing it wrong, but I'm really glad the female trainer did so! Perhaps the difference is simply due to men at the gym wanting to seem as if they know it all already? I don't know… but my knees and I are both much, much happier now!
Since graduating I've also been enjoying myself with getting out of my head (due to dissertation writing mode) and more into my body – by doing various crafting projects. Not only am I enjoying this tremendously, but it has certainly led to a great many firsts! As an example, and with the encouragement of my housemates, I decided to redo the guest bedroom. We use it for guests, but also as a dance studio, a dog training room, and in future we want to use it for a small recording studio as well. Consequently the room was a mess, due to it being sort of a catch-all space for our leftovers.
In the process of refurbishing the room, I spackled damage and repainted the walls (neither of which were firsts, but were still fun), then put up curtains. Here's where the firsts begin… because after helpfully holding the tools for a housemate while watching one set of curtains go up in another room, I did the rest of the curtain hanging in the guest bedroom on my own – yay, me! So these personal firsts include using a battery-powered drill and a battery-powered impact driver while hanging three different types of curtain rods: cup-supported, bracket-supported, and traverse rods — both single and double curtain versions. After that, I correctly (it did take more than one try) hooked up the curtains, then connected up the pull cords for the traverse rods. So have a photo of correctly hung curtains on traverse rods… with a lovely bonus Goldie thrown in for good measure! :)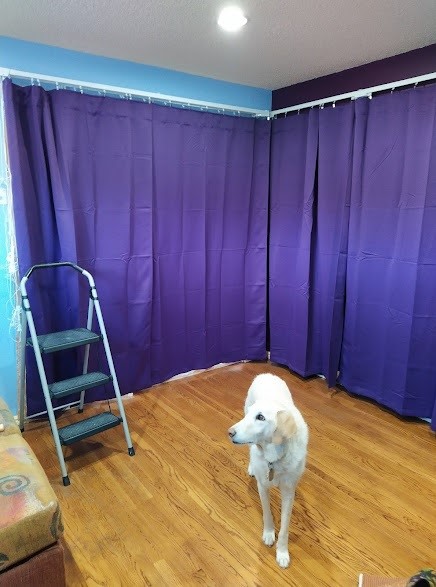 After that I also put together and hung a pendant electric light with macrame shade, and I have plans for some faux Moroccan-style pendant lamps as well, which should be fun! What other firsts do I have… I used spray-paint for a hard varnish coating on a small piece of furniture, and poured resin for a protective (tiny) tabletop – whooo boy, does resin stink!
I have previously used one of the large table-mounted saws, as well as an electric sander, and I've used a rotary tool to grind down Goldie's toe nails. However, in the process of upholstering a small stool for the guest bedroom, I had the opportunity to use (for the first time) a circular saw, and to use the rotary tool to actually sand wood! The battery-powered sander was fine for most surfaces, but the rotary worked better on the handful of curving edges on the wooden stool. So that's eleven firsts so far, woot!
More to Come
All these hand tools actually belong to my housemate, who is a real enabler when it comes to tools! When he found out I'd eventually need both a staple gun and a jig saw to complete the stool, he happily announced that all he needed was an excuse! –and promptly got one of each. I have such awesome roomies! Because of him, I'm going to be able to indulge myself in several more creative firsts, like finishing upholstering the stool, decoupaging the damaged surface of my desk with lovely patterned cloth, making valances for all three sets of curtains, and much more — so stay tuned!