Thank you for visiting! Here is my growing artistic vision created through seeking inspiration from the Divine Feminine.


I create spiritually inspired paintings. I also decorate tambourines; you can read more about that process below. If you have a particular design you'd like rendered on a tambourine, or on a drum you already own, please contact me via email at collie [at] pobox [dot] com — I look forward to working with you!



I am in the process of setting up an artfire account for purchase of originals, and a deviantART account for those who would like my creations on prints, gicleé canvases, greeting cards, or similar items. Once they're completed, I'll add in links here.
Technical details
I ordinarily work with tambourines which have goatskin heads, are wooden-framed, and have a single row of jingles. There are three sizes of tambourine available in this format: 6″, 8″, and 10″. Prices start at:
6″ tambourine: $25.00
8″ tambourine: $35.00
10″ tambourine: $45.00

Shipping via Priority Mail 3-Day™ Medium Flat Rate Box: $13.60
For most commissions you can simply add $10.00 to the amount for your chosen size of tambourine. Extremely elaborate designs may be more depending upon the time necessary to create it, or the artwork's complexity, so please be sure to discuss your desired design with me right away. Also, there are certain patterns I'd really like to try on a tambourine; feel free to ask me about them. If you'd like one of those, I'm happy to not charge commission prices for the opportunity to paint it! :)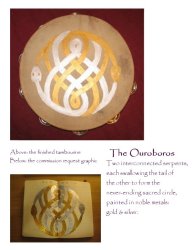 Please allow two to three weeks for your tambourine to be crafted, especially if it is a commission piece. I ordinarily ship within the United States using Parcel Post rates. If you wish your tambourine shipped to another country, or you wish me to use Priority Mail to ship your item, let me know in your initial e-mail, and we can figure out what will work for you.
Enjoy, and happy drumming! :)
The Tambourines
It was a dream which led me to decorating tambourines. I had been wondering how I might support myself at least partially with my artwork, and wondering what sort of artwork to do. I'd just started painting my internal spiritual vision, and I knew I wanted to keep on doing so. I wasn't sure what other kinds of spiritual art I might try creating, though. I also wanted to be able to participate in drum circles when I didn't yet have a drum — and when I did, to be able to share lovely, spiritually inspired instruments with my fellow drummers.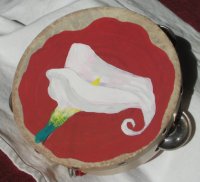 That night I dreamed I was selling tambourines which I had decorated. There were three designs in particular I had in hand, and I was taking orders for more. The three patterns I "saw" in the dream were the Lascaux pregnant mare, a hand in the style of the Cueva de Las Manos, and the graceful, dancing snake-headed goddess with her arms upraised.
When I awoke, I was excited and inspired, and I went out and bought some tambourines to try these patterns out. Since then I've done beautiful custom requests and I've done other goddess art that spoke to me… but I try to always have some of my dreamed designs on hand. I consider my Lascaux pony to be my good luck charm, in fact! She's not just my best seller; she's also a wonderful symbol to me of the birthing process of creation.



I hope you enjoy my designs! I have put photos of the original inspirations in here, along with pictures of the finished tambourines. The designs are all hand-crafted, so yours may vary slightly from the photo original.
I am happy to accept commissions, especially if it's spiritually related. If you have a design you'd like me to craft for you, please tell me! You can reach me via email at collie [at] pobox [dot] com. I look forward to working with you.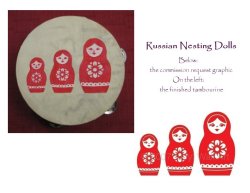 The chimes have a lovely, even tone, and the head is evenly stretched; I love the sound. But even better is the painting — beautiful, delicate but not ethereal, three matryoshkas in three different sizes but perfectly matched. Not an easy task! I love it. — Kate J.
Acknowledgments
Finally, credit where credit is due: it was Shiloh Sophia McCloud who showed me how to paint again — how to access my spiritual side while creating, and to release my unnecessary inner critic/perfectionist. Sue Duenke, my cohort sister, encouraged me by referring to me as "Blythe Spirit," and it sang to me… so that's how I sign my artwork. Finally Vicki Noble, one of my thesis committee members, inspired me more than she may ever know — it's because of her I'm having so much fun creating artwork which exalts the Divine Feminine.
Namaste to you all, dear friends.