Women's Spirituality Master's Program
This is an invite to the Open House being held for the Master's program I'm in. It has been, quite frankly, life changing for me, so if you're at all intrigued, please come out to hear more about it.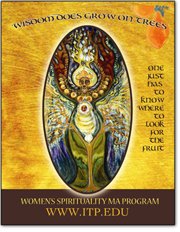 Open House & Information Session
Saturday, January 23, 2009
at 12:00 p.m.
with Co-directors
Judy Grahn and Dianne Jenett
We are pleased to invite you to an information session about the WASC-accredited Women's Spirituality Master's of Arts Program (WSMA) at the Institute of Transpersonal Psychology. This is a graduate-level program for women who find themselves at a pivotal "crossroads" where they feel life should have more purpose and meaning.
The Program
Our program is designed for adult learners who have a passionate interest in the historical, cultural, philosophical, and theoretical roots of a women-centered spirituality; as well as the practical applications which its research, personal exploration, and creative expression inspire. Our graduates use this learning as a catalyst for change within themselves and the world. Many experts believe a recession is a good time to return to graduate school, and the benefits of a genuinely transformative educational experience last forever.
Woman-Centered: The program explores and celebrates women's history, feminist perspectives, spiritual practices, and women's contributions to society, past and present.
Acclaimed Faculty: Internationally-known leaders in the field of women's spiritual leadership work closely with students to prepare them for scholarly research and community leadership.
Program Curriculum: Innovative curriculum integrates scholarly research, spirituality, embodiment, activism, ritual, and the arts.
Social Action: A community practicum allows students to contribute to the community by bringing aspects of the Sacred Feminine into a variety of organizations.
Cohort Learning: A collaborative educational model wherein a small number of graduate students share the same core classes throughout the program and build a supportive learning community.
Low Residency: Designed for busy women, the program entails one or two weekends per month (only one for students at a distance) for two years, with summers off.
For further description see our web page
Accreditation: This program is fully accredited by the Western Association of Schools & Colleges (WASC).
The Event: ITP Admissions Office, 1069 E. Meadow Circle, Palo Alto
Meet with a Program Director, Faculty, Alumni, and Admissions Director
Get all of your questions answered
No RSVP necessary, and feel free to bring a friend
Please get directions from our website, as the Internet mapping organizations (like MapQuest) have incorrect directions.
More Information: Sydney J. Reuben, Director of Graduate Admissions. (650) 493-4430 ext. 237. sreuben at itp dot edu (please insert the appropriate symbols in the email address)
~ * ~