Diploma *squeeeeeeee*!! ;-)
So my master's diploma finally arrived in the mail today, and it looks absolutely gorgimous! Fantabulous! Tongue-twisting-excitimus!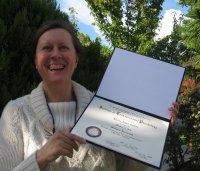 I m seriously squeeeeeing over this one! :)
Add to that lovely arrival the fact that the PhD program I applied for at CIIS has accepted me for the upcoming semester — and I'm bouncing along on cloud nine today!!