The Campbell "Boogie on the Bayou!" street fair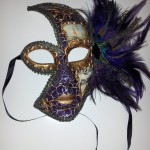 I love being able to stack up automatic posts ahead of time! :)
Had a really fun time at the "Boogie on the Bayou" festival in Campbell: got a beautiful new Venetian-style mask (that's it to the immediate left); got to listen to some Cajun music; and got to eat crawfish etoufee, alligator kebab, and fresh hot beignets — yum! Three friends went with me, and I think they all had fun too, which made it even more of a good time. Also: I so love pretty masks! The photo on the right (or at least it's supposed to be on the right!) is of the beautiful little filigree mask I bought in New Orleans during The Great Summer Road Trip of 2012 — I'm including it just 'cause it's beautiful and I like it. ;)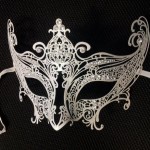 At the theme booths at "Boogie on the Bayou" you could buy those cute cheap bead necklaces they toss out during Mardi Gras, as well as alcoholic drinks, and some other New Orleans-themed stuff. I had my beads that I'd gotten during The Great Summer Road Trip wrapped around my wrists — funnily enough, though, I got them at Vegas on my way east. Consequently when the salesfolks at "Boogie on the Bayou" tried to sell me theirs I simply held up both fists, grinned, and said, "Brought my own!" Somewhat to my surprise, I also received several compliments about how I was wearing them. I also bought a beautiful face mask that I decided would be my reminder of the lovely day. Oh! Also, my sweetie purchased some lovely dangly moonstone earrings, and a really attractive little pin of a mask, when he saw how much I liked them — he always angsts over what to get me for holidays, so I've taught him to buy things he knows I want, then put them away for the holidays. ;)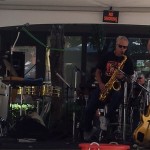 There were bands at each end of the street, and they changed out periodically. While I only heard two, they were both fun. One was more a Southern rock band, though it had a really nice, bluesy saxophone player. The guitar and bass players were quite good as well. That's them setting up, to the immediate left, though the photo is cursed with the usual bane of street fairs: the clueless guy holding a beer!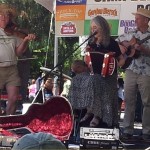 The other band (photo hopefully on the right) was all older folks playing Cajun music and singing in (I think) Cajun French. That was fascinating, since it was clear many of the audience not only knew them, but a few would occasionally be invited up on stage to pick up some instruments and play. Not the usual mix of instruments either: while there was one electric guitar there was also a regular guitar, a couple of fiddles, an accordion, and a percussion triangle, that I saw. The photo to the right is me seated in the shade by their stand, between songs.
Turns out there's a significant group of Cajuns in the Oakland-Berkeley area that migrated here post-Katrina, which I didn't know. Cool! While I'm not wildly familiar with Cajun music, it has what I suspect is a characteristic sound that I like. It's also very danceable, and there were some older couples clearly having a blast as they swung around in front of the band.
Thoughts on the food: etoufee is so very good! The housemate I shared with was not wild about it, though, since he felt there was too much rice. Perhaps there was, but I do love the flavors, and I'm a fan of crawfish too. Also, alligator is a surprisingly pale meat — rather the color of cooked chicken. The piece I had was quite tasty, with a spicy-garlic flavor, but had the consistency and chewiness of rubber erasers: gnarm gnarm gnarm gnarm…! The beignets were rather hastily made — they were quite popular! — so while they were a bit large and lumpy, they were also quite deliciously fresh and very liberally dusted with powdered sugar! Really yummy. My housemate turned his nose up at their size and lack of perfection — but I noticed he also did not take me up on my offer to eat his share! :)
Since I'd not had those types of food previously (with the exception of the beignets), those were my choices for lunch. Admittedly, it was a bit pricey for the amount of food we received — it came out to $15 each for not really very much food — but I still enjoyed it. After all, when I go to an ethnically based street fair, I want to try their particular style of food! That wasn't all the Cajun food they had there, either. There was also jambalaya, hot links, and mussels — all of which I've had previously and enjoyed — and oysters: ugh! Pass. To me, oysters just taste, look, and feel like snot. Bleah.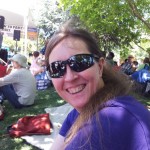 So on the whole, a huge win: gorgeous day, lovely company, fun walking around a nice place, tasty new type of food, and ice cream and shade while listening to nifty music. More and more I'm wanting to head back to spend a bit more time in Louisiana and New Orleans. I wonder if I could find some connection through Louisiana State University, so I might conduct some of my dissertation interviews there? That'd be SO cool! Anyone know someone I can try contacting? :)