The signs & results of property ownership
Our old apple tree has a few blossoms on it! They look like lovely pinkish froth, almost, despite there being only a handful of them. I hope next year the tree has more blossoms — I remember the apple trees we had in Texas nearly exploded with blossoms each year. To my knowledge we've also got two hummingbird nests on the property, which I love. There's one in the front and one in the back, and the backyard one is right outside the window where I sit to work. I was so pleased to see the backyard hummingbird feeding babies in the nest yesterday — incredibly cool! I've purchased a new hummingbird feeder and a metal stand to make sure it stays up high; that's getting installed this weekend. I'd like to plant a bunch of flowers that attract hummers, butterflies, and bees, but that's going to have to wait probably until next year — when I have more time and money to devote to planning and performing that.
On the other hand, in order to finish the bat houses all I have to do is find all the pieces, finish putting them together, and mount them. I think we're going to have to put them back-to-back on a pole, though. While the south side of a house is considered the best location, our south side is all first floor… and they need to be at least 15′ up in the air. Maybe the west side of the house would work too? There's a nice, big wall on that side that gets all the setting sun, after all… and that's when the bats should be waking up, if my understanding is correct.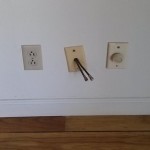 Speaking of houses… it's funny what the maintenance of a house can tell you about its inhabitants. There's an old saying about if the only tool you have is a hammer, then everything starts looking like a nail that needs hammering down. Well, the husband of the previous inhabitants of this house apparently had the impression he was a handyman, because there are all sorts of "repairs" and "upgrades" throughout the house that show a distinctly, umm… heavy hand! In the photo you can see his additions of cable cord and a light dimmer — where the plates are crooked both horizontally and vertically, and the dimmer-roller is nearly falling off its stem. Had the man never heard of a level?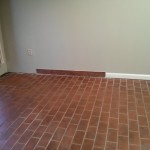 There are entire rooms where the baseboard molding was applied not with the slim little molding nails you're supposed to use… but with big honkin' woodscrews! Those woodscrews are visible all over the house, rammed in so deeply on occasion that I bet the man had a screw-gun he enjoyed using. More visibly, the molding is occasionally either unfinished… or there's more than one kind in the room! It made us wonder if maybe he set in the sliding glass door as new or something, and had to pull out the original molding… maybe? I mean, why else would you leave cracked tile and open dirt around the door? It's all very strange looking in places, but we figure we'll fix things little by little.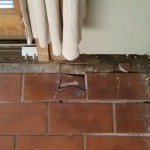 Of course, there was also an open 1/2″ metal tube sticking up about an inch or so from floor level by the wall on the other side of the room. We were told the tube went down both floors, and they didn't know what it did — it was there when they arrived. That one they covered with duct tape — apparently so the young grandson would stop dropping things down it! :) Oh, there's also a closet where the man didn't bother finishing the molding — and he drilled a hole (thoughtfully left open for us) in the wood floor! We're not sure, but we think maybe that's where he pulled the cable wires up into the room? That, or they had a tiny pet snake that lived under the house most of the year… :) You can just see the hole as a black dot on the left hand side of the photo.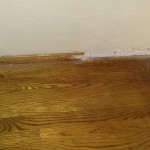 That was in the daughter's bedroom — a room that contains an astonishing number of peculiarities. For example, in that room alone we find all the following along with the odd closet: there's a little set of three shelves set into the wall… at knee height. I'm guessing it was a bedside table sort of arrangement? There was a 1″ diameter hole drilled through the inside wall of the shelving that came out on the other side of the wall into a sort of, um… room alcove? It was about 1 & 1/2′ deep and about 5′ wide… but whatever the hole was drilled for was apparently yanked free of the wall so violently that it left an irregular 3″ or 4″ rip out of the wall's plaster! I suspect impatience was a big part of this man's emotional repertoire whilst engaging in house repairs… which means I'm becoming a dab hand with the spackle. :)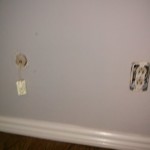 Oh, there was one other oddity within the closet: there was no pole for hangers! There was a shelf with hooks to hang the pole on — but no pole! Don't ask me why; they didn't say. Also, the sliding glass doors to the outside had wiring strung for at least three layers of curtains — but one of the wires apparently snapped. So… they curled it up, tied it off, and left it hanging there! Further, the plugs had no faceplate on them, and you can feel cold air blowing through them. There's also what I think was a phone jack, but its plate was applied so badly that they used big blotches of glue to hold it in place. That's it on the left in the photo; my apologies for how blurry the photo is. I was holding an excited dog on leash at the same time as I snapped the photo on my cell — a technique I often recommend for "action" photography! :)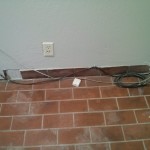 There's also a wiring technique I cannot recommend, which the man was apparently fond of: running miles of wiring along the floorboards and over the door frames, rather than inside the walls or within some sort of protective piping. Sometimes he left us two or three different types of wiring, either still woodscrewed to the ceiling or trailing loose on the floor! He didn't confine himself to the inside of the house, either — there are long loops of it still remaining that festoon the outside of at least one second floor window, and decoratively frame the garage door. We've got enough cable cord by now to start our own business, I think. In at least two cases he drilled right through an outside wall — to feed the cable cord into the house. Hello, spackle, my old friend; I've come to need you here again… :)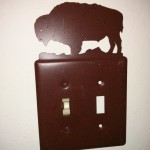 I also suspect the man sometimes went to the hardware store and bought whatever was on sale. For example, there were numerous rooms where the light switch plates and plug plates were all different, and in most of the rooms with more than one light there are usually two or three different types of bulbs. The room I'm sitting in now had, for example, two sort of antique-looking decorative metal foil plug faceplates, three molded plastic ones that looked like wood, and one ordinary white plastic one. Oh! Also, there's one room that was apparently supposed to have a Western motif or vibe… so two of the five lightswitch plates had that Western theme: the classic "sad Indian" on a horse, and a buffalo. Hilariously, the buffalo light plate is for two switches — but there's only one in the wall! So of course he applied it anyway. Yes, those have been removed from that room… sorry, but I find them incredibly irritating to look at. :)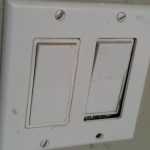 I'm guessing the wife liked dimmers, because there are a lot of them in the house. For example, walking in towards the kitchen you have two entire sets of light switches! Some are rockers like in the photo, some are little horizontal rockers below two buttons — one for light, one for the fan — and some are pressure panels. Delightfully, it's often unclear which switch goes with precisely which light — because there's a plethora of them all in that spot, for something like four different rooms that kind of "meet" at that point. Often the light switches and the plates framing them are at different levels, or the plugs will be tilted slightly, such that you can tell the man installed them hastily and at an angle, rather than flush with the wall. We've also noticed that there are several electrical outlets where pieces were hammered in so violently that part of the wall's plaster broke off, like in the photo below… but again, the electrical faceplate was just applied over it, ignoring the damage done!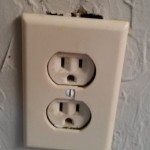 We're going room by room, replacing and updating, but it still occasionally makes us burst out laughing at some of the shortcuts the man took. Weirdly, I'm finding this rather fun to fix up, too. It's like his mistakes are our opportunity to make the house both nicer and more ours, you know? Currently I'm kind of head-down in proposal writing — blogging is a mental break and relief for me — but I'm looking forward to getting back to work with the housemates on making the place look nicer and be more energy effective.
Eeeeee! We got a beautiful new house! :)