I love the idea of a day for giving gratitude for friends and family, for one's warm/fed/dry/whatever circumstances, or even simply because feeling grateful helps one to appreciate life more. Just for fun I cooked for a few years… and then I'd had enough of that! We started celebrating at nice restaurants instead. Good food served to us with no worries about cleanup or whether there'd be enough or if the cats had gotten on the counter with the whipped cream… perfect solution, we thought!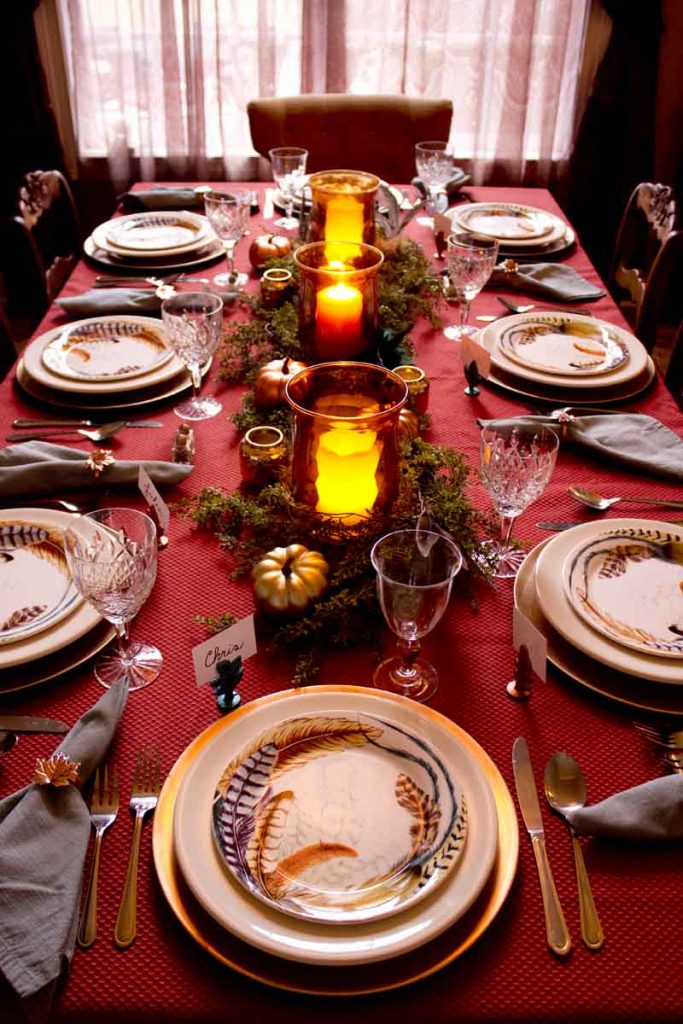 So we'd celebrate Thanksgiving each year with friends on the proper day — but then again, it always seemed like this friend would be out of town, or that friend had family obligations, or whatever… and the poor restaurants were a madhouse! Our favorite ones had strict menu choices and allowed us two hours — but only with a reservation, please! — and once the time was up it was a polite but firm 'thanks goodbye we need the table, please!'
Now we celebrate Friendsgiving (I love that term!) at a nice restaurant on the day before Thanksgiving. It's a fantastic solution, I think: we get to see all the friends we often don't get to see much during the regular year, and the restaurant is much calmer. We can take as long as we like to chat with our friends to catch up, and we can order whatever we want off the menu. Win all around!
Before Thanksgiving we shop for a bit of turkey breast, gravy, some tasty traditional veggie dishes, and tons of stuffing! Then on the day of Thanksgiving proper we have a simple, small dinner at home for just the household, where we all help out and there's no pressure. Best of all, there's plenty of leftovers for the traditional post-Thanx turkey sammiches! J
So from our household to all of yours: a very lovely and warm holidays! May your Friendsgiving or Thanksgiving be low pressure, high flavor, and greatly enjoyed, regardless of what day you choose for it… and may we meet again with pleasure in the upcoming year!