WHEEEEEEEEEEEEEEEEE!!! :-D
-EEEEEEEEEE!! I am SO EXCITED my books arrived today! I have now officially published scholarly work, yay!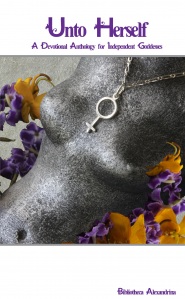 Wheee! This is so nifty! Along with several sister scholars from CIIS, I have two articles in the beautiful new little anthology Unto Herself: A Devotional Anthology for Independent Goddesses which was put out by Bibliotheca Alexandrina and edited by Ashley Horn. Gleeee! Isn't it beautiful?! :)
Okay! So, official-like stuff here: I wrote two articles — one on Tabiti, Goddess of primal fire, and supreme Goddess of the Central Asian nomads from the late Bronze and early Iron Ages. The other was a midrash of the Lokasenna (or Flyting of Loki) — rewritten to depict Freyja, the Ancient Norse Goddess of Love and Death, righteously confronting those male gods who belittled and/or did not defend her honor during Loki's flytings.
There's also a lot of other beautiful work in the book — glancing over it quickly, I see a lovely mix of poetry, stories, ritual, more scholarly work, prayers, and more! There are over 60 contributions to this marvelous anthology, all honoring those fascinating, complex, often contradictory-seeming Goddesses who are complete unto themselves, and who teach us how to be so as well.
Also, you can find the book for sale from the Bibliotheca Alexandrina here: Unto Herself — and alternatively you can also find it on amazon here: Unto Herself.
Woohoooo! I am SO EXCITED! Pardon me, I'm heading off to do the happy-Collie-dance now ;) — oh! Also, if you get the book and read it, please please let me know what you think? I would love to hear other folks' thoughts as well on my scholarly writings!