New arting! Calla lily & rose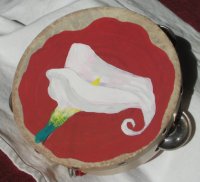 Got another tambourine completed — this one's just a little 6 incher. The theme seemed perfect for spring though: a calla lily on the silhouette of a rose. I've always loved the creamy texture of calla lilies, and wanted to try replicating, in art, that interestingly smooth crinkle effect as they curl.
Both the rose and the lily are strongly associated, through history, with the Divine Feminine. The calla lily itself also stands in as a beautiful metaphor for female genitalia, and most recently I've discovered the rose was considered a lovely metaphor for the Virgin Mary, Mother of Jesus.
This was a perfect opportunity for me to play with the design. You can see more of my designs on my Art! page. If you'd like a tambourine too, let me know! :)